Images
Low Impact Production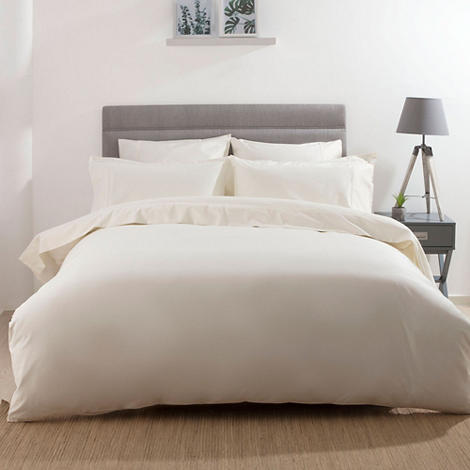 Low Impact Production
BELLEDORM
The Sustainable Edit
600 Thread Count Cotton Sateen Duvet Cover Ivory
Details
https://www.brownthomas.com/home/bedroom/duvet-covers-sets/600-thread-count-cotton-sateen-duvet-cover-ivory/2000021545.html
Product Actions
Want it today?
Order in the next
2hrs and 38mins
for Same Day Delivery, Dublin only.
Part of our Sustainable Edit
We place sustainability at the heart of what we buy and sell which is why we'll reward you with double loyalty points when you shop sustainably.
Find out more
Additional Information
Our 600 thread count 100% cotton sateen range, available in pure white, classic ivory and smart platinum feels wonderfully smooth and soft to the touch. The high thread count sateen weave gives this fabric both a lovely drape and fine lustre. Stitched with a smart pin tuck detail this is undoubtedly a truly luxurious range of linens that will give years of pleasure.
Thread Count: 600, Type of Weave: Sateen, GSM: 154, Construction: 200x(63x6), Yarn Count: 60x120
100% Cotton - Machine washable at 40C. Do not bleach. Do not dry clean. Tumble dry or drip dry. Use a warm iron. Wash colours separately. Wash before use.
Sustainability: Approved to STANDARD 100 by OEKO-TEX®, one of the world's best-known labels for textiles tested for harmful substances. Made in an environmentally responsible facility certified to STeP by Oeko Tex® standard.
Standard

€5.95
Premium Express €9.50
1-3 business days.
Same Day, Dublin Only €15.00
Nominated Day, Dublin Only €13.50
Large Items €24.99 (up to 7 days)
For more information on our delivery service please read our full details on Brown Thomas Dispatch, Delivery & Order Tracking.
Rathwood Furniture & BBQs €50.00
This item is usually delivered within 2 weeks.
BT Plus €19.95
Unlimited standard delivery for a year.
Find out more
Find Out More About Our Delivery Methods
Quick & Easy Returns
For full details on how you can return items online or in-store, please click
here
Please see store pages for Click & Collect opening hours.
Convenient and complimentary, order online and collect from your nearest store.
Brown Thomas Click & Collect is a complimentary service which enables you to place an order online and collect from your nearest store.
Choose from our cotton tote, drawstring bag or signature gift wrap options which include your personalised message from €3.
At certain times of the year our gift wrap may vary slightly in line with seasonal celebrations.
More home