Images
GIFT WITH PURCHASE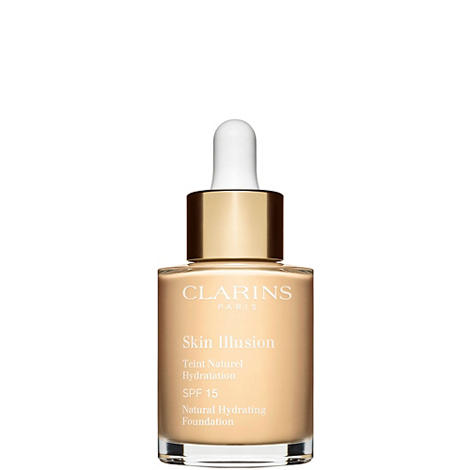 Pictured colour: 100.5 Creme
GIFT WITH PURCHASE
CLARINS
Skin Illusion SPF 15
Details
https://www.brownthomas.com/beauty/make-up/face/skin-illusion-spf-15/135432935.html
Product Actions
Want it today?
Order in the next
2hrs and 38mins
for Same Day Delivery, Dublin only.
Additional Information
Its new generation formula contains just the right amount of pigments in a blend of silky, non-greasy oils with different evaporation speeds. The complexion is even and luminous and imperfections visibly reduced, for a barely-there, naturally radiant, flawless look.

• Bare skin effect • Natural radiance
• Complexion luminosity +58%**
• Serum texture
• Triple protection against UV rays*, pollution and free radicals

Standard

€5.95
Premium Express €9.50
1-3 business days.
Same Day, Dublin Only €15.00
Nominated Day, Dublin Only €13.50
Large Items €24.99 (up to 7 days)
For more information on our delivery service please read our full details on Brown Thomas Dispatch, Delivery & Order Tracking.
Rathwood Furniture & BBQs €50.00
This item is usually delivered within 2 weeks.
BT Plus €19.95
Unlimited standard delivery for a year.
Find out more
Find Out More About Our Delivery Methods
Quick & Easy Returns
For full details on how you can return items online or in-store, please click
here
Please see store pages for Click & Collect opening hours.
Convenient and complimentary, order online and collect from your nearest store.
Brown Thomas Click & Collect is a complimentary service which enables you to place an order online and collect from your nearest store.
Choose from our cotton tote, drawstring bag or signature gift wrap options which include your personalised message from €3.
At certain times of the year our gift wrap may vary slightly in line with seasonal celebrations.