Images
GIFT WITH €75 SPEND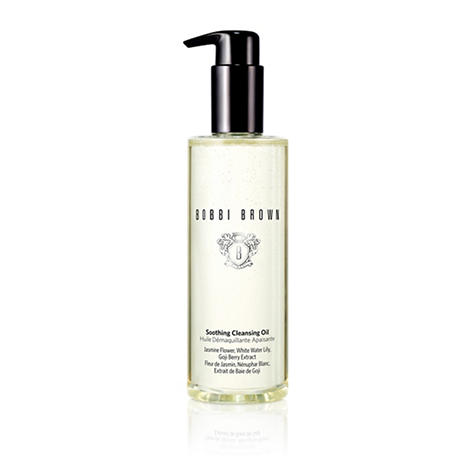 GIFT WITH €75 SPEND
BOBBI BROWN
Soothing Cleansing Oil
Details
https://www.brownthomas.com/beauty/skincare/cleansers-exfoliators/soothing-cleansing-oil/141696321.html
Product Actions
Want it today?
Order in the next
2hrs and 38mins
for Same Day Delivery, Dublin only.
Additional Information
What it Is: Our customer-favorite cleansing oil, infused with a blend of botanical oils, gently dissolves surface impurities and is now formulated to remove long-wearing eye makeup. Kukui nut, white water lily and goji berry extract helps skin feel instantly soothed, while jasmine flower helps skin feel nourished. Suitable for all skin types.
How To Use: Pump onto dry hands and smooth over dry face. Splash warm water onto skin and massage to help dissolve surface impurities and makeup. Rinse skin clean with warm water. To complete your regimen, apply Hydrating Face Tonic with a cotton pad, the
Standard

€5.95
Premium Express €9.50
1-3 business days.
Same Day, Dublin Only €15.00
Nominated Day, Dublin Only €13.50
Large Items €24.99 (up to 7 days)
For more information on our delivery service please read our full details on Brown Thomas Dispatch, Delivery & Order Tracking.
Rathwood Furniture & BBQs €50.00
This item is usually delivered within 2 weeks.
BT Plus €19.95
Unlimited standard delivery for a year.
Find out more
Find Out More About Our Delivery Methods
Quick & Easy Returns
For full details on how you can return items online or in-store, please click
here
Please see store pages for Click & Collect opening hours.
Convenient and complimentary, order online and collect from your nearest store.
Brown Thomas Click & Collect is a complimentary service which enables you to place an order online and collect from your nearest store.
Choose from our cotton tote, drawstring bag or signature gift wrap options which include your personalised message from €3.
At certain times of the year our gift wrap may vary slightly in line with seasonal celebrations.
More beauty