Images
PURCHASE WITH PURCHASE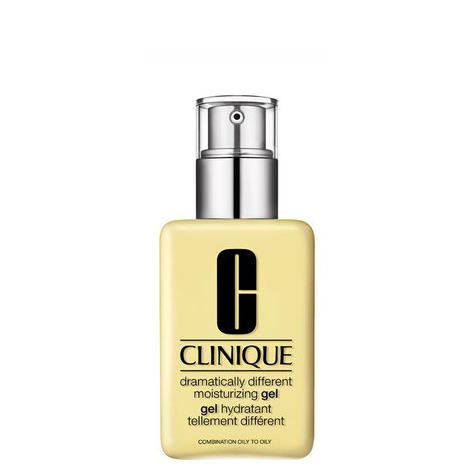 PURCHASE WITH PURCHASE
CLINIQUE
Dramatically Different™ Moisturizing Gel
Details
https://www.brownthomas.com/beauty/skincare/facial-moisturiser/dramatically-different-moisturizing-gel/2000047634.html
Product Actions
Nominated day delivery
Pick your delivery date and time slot up to 28 days in advance. Dublin only.
Additional Information
Dermatologist-developed moisturising gel balances and refreshes oilier skin types.​
What It Does​:
Dramatically Different Moisturising Gel delivers 8 hours of lightweight, oil-free hydration.​
This moisturising gel replenishes skin's oil-water balance for healthy-looking skin, refreshing oilier skin types.​
Slips on easily and absorbs quickly. ​ ​
How To Use​: Use this gel based moisturiser twice a day, morning and night.​ Spread all over face/throat twice daily, or where needed.​ For best results, use after Facial Soap and Clarifying Lotion.​ Complete Your Routine​: Create great skin with Clinique's twice-daily 3-Step Skincare System developed by a celebrated dermatologist. It's simple: cleanse, exfoliate, moisturise. Each step is customized for your skin type.
Skin Types: Combination Oily, Oily​.
Key Ingredients​: Natural moisturising factors also known as NMFs: They help pull in water and bind moisture to skin to help keep it hydrated and balanced. ​Infused with a blend of barley, sunflower, and cucumber.​
Formula Facts​: Non-comedogenic. Dermatologist tested​. Fragrance free​. Allergy tested​.
Standard

€5.95
Premium Express €9.50
1-3 business days.
Same Day, Dublin Only €15.00
Nominated Day, Dublin Only €13.50
Large Items €24.99 (up to 7 days)
For more information on our delivery service please read our full details on Brown Thomas Dispatch, Delivery & Order Tracking.
Rathwood Furniture & BBQs €50.00
This item is usually delivered within 2 weeks.
BT Plus €19.95
Unlimited standard delivery for a year.
Find out more
Find Out More About Our Delivery Methods
Quick & Easy Returns
For full details on how you can return items online or in-store, please click
here
Please see store pages for Click & Collect opening hours.
Convenient and complimentary, order online and collect from your nearest store.
Brown Thomas Click & Collect is a complimentary service which enables you to place an order online and collect from your nearest store.
Choose from our cotton tote, drawstring bag or signature gift wrap options which include your personalised message from €3.
At certain times of the year our gift wrap may vary slightly in line with seasonal celebrations.
More beauty