Images
GIFT WITH PURCHASE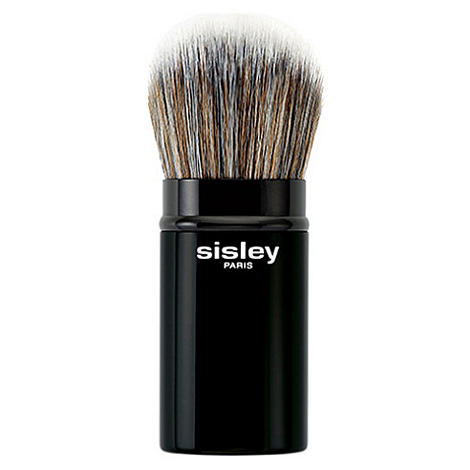 GIFT WITH PURCHASE
SISLEY
Kabuki Brush
Details
https://www.brownthomas.com/beauty/personal-care/devices-tools/brushes/kabuki-brush/1610146.html
Product Actions
Want it today?
Order in the next
2hrs and 38mins
for Same Day Delivery, Dublin only.
Additional Information
"Thanks to its dense and round shape, the Kabuki Brush enables you to sculpt the face by sweeping the powder lightly or by applying it to highlight particular areas to create a contoured effect. Its wavy and synthetic, extremely soft bristles were specifically designed and selected to provide natural make-up or fuller coverage. For the development of these brushes, Sisley has worked with Raphaël, French master brushmaker since 1793, to offer make-up accessories that bring out the very best of our formulas. Bonus: it is retractable and slips easily into your handbag for touch-ups throughout the day. #beyourownmakeupartist"
Standard

€5.95
Premium Express €9.50
1-3 business days.
Same Day, Dublin Only €15.00
Nominated Day, Dublin Only €13.50
Large Items €24.99 (up to 7 days)
For more information on our delivery service please read our full details on Brown Thomas Dispatch, Delivery & Order Tracking.
Rathwood Furniture & BBQs €50.00
This item is usually delivered within 2 weeks.
BT Plus €19.95
Unlimited standard delivery for a year.
Find out more
Find Out More About Our Delivery Methods
Quick & Easy Returns
For full details on how you can return items online or in-store, please click
here
Please see store pages for Click & Collect opening hours.
Convenient and complimentary, order online and collect from your nearest store.
Brown Thomas Click & Collect is a complimentary service which enables you to place an order online and collect from your nearest store.
Choose from our cotton tote, drawstring bag or signature gift wrap options which include your personalised message from €3.
At certain times of the year our gift wrap may vary slightly in line with seasonal celebrations.
More beauty