Images
PURCHASE WITH PURCHASE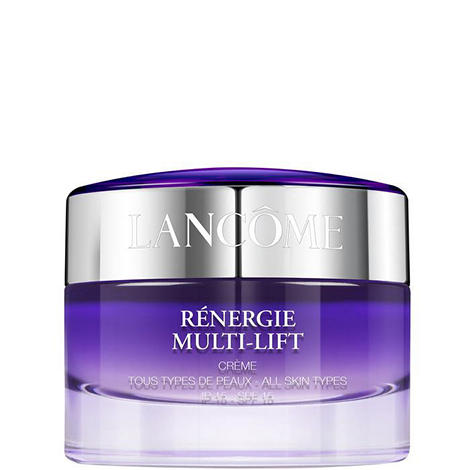 PURCHASE WITH PURCHASE
LANCÔME
Renergie Multi-Lift Day Cream All Skin Types
Details
https://www.brownthomas.com/beauty/skincare/masks/renergie-multi-lift-day-cream-all-skin-types/120634631.html
Product Actions
Want it today?
Order in the next
2hrs and 38mins
for Same Day Delivery, Dublin only.
Additional Information
Redefining Lifting Cream - Anti-Wrinkle - Firming - Contouring Face and Neck. Lancôme reinvents Rénergie Multi-Lift and creates its first range of redefining lifting skincare for visible results: skin feels firmer and wrinkles appear reduced.
Benefits:
Facial contours look more defined
Skin feels firmer and tighter, as if lifted
Wrinkles look reduced
How to use: Apply by making upward movements from the middle of your chin along the outline of the face and under the jaw to the bottom of the ears. Continue with the same movements but from the upper lip to the top of the ear. Then from the cheekbones to the temples. Finally, from the outer corner of the eyebrow moving up over the forehead to the hairline.
Tested under dermatological control
Standard

€5.95
Premium Express €9.50
1-3 business days.
Same Day, Dublin Only €15.00
Nominated Day, Dublin Only €13.50
Large Items €24.99 (up to 7 days)
For more information on our delivery service please read our full details on Brown Thomas Dispatch, Delivery & Order Tracking.
Rathwood Furniture & BBQs €50.00
This item is usually delivered within 2 weeks.
BT Plus €19.95
Unlimited standard delivery for a year.
Find out more
Find Out More About Our Delivery Methods
Quick & Easy Returns
For full details on how you can return items online or in-store, please click
here
Please see store pages for Click & Collect opening hours.
Convenient and complimentary, order online and collect from your nearest store.
Brown Thomas Click & Collect is a complimentary service which enables you to place an order online and collect from your nearest store.
Choose from our cotton tote, drawstring bag or signature gift wrap options which include your personalised message from €3.
At certain times of the year our gift wrap may vary slightly in line with seasonal celebrations.