Images
Limited Edition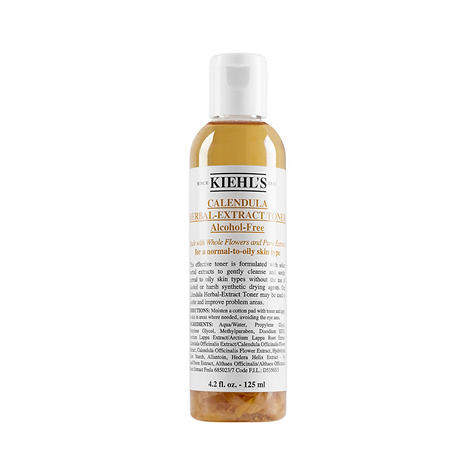 Limited Edition
KIEHLS
Calendula Herbal Extract Alcohol-Free Toner Limited Edition
Details
https://www.brownthomas.com/beauty/skincare/cleansers-exfoliators/calendula-herbal-extract-alcohol-free-toner-limited-edition/116798608.html
Product Actions
Want it today?
Order in the next
2hrs and 38mins
for Same Day Delivery, Dublin only.
Additional Information
This facial toner for oily skin and normal skin has been beloved by Kiehl's customers since the 1960's. Our cult-classic formula contains hand-picked Calendula flower petals with other ingredients like Great Burdock Root Extract.
Benefits:
Our best-selling toner now available in a limited edition Holiday design.
Tested on blemish-prone skin.
Formulated with Calendula, Burdock Root Extract and Allantoin.
Alcohol-free.
Non-comedogenic.
A customer favourite.
This bottle is made from 100% PCR plastic.
Helps protect against Maskne: target key complaints from mask-wearing.
Reduces visible blotchiness & surface oil.
Claims:
89% agree [overall appearance of] blemishes appear reduced.
90% agree skin complexion looks improved.
92% agree discomfort from blemishes feels reduced.
*Consumer perception study, 55 participants.
An effective, alcohol-free facial toner designed to soothe problem skin
How to Use: After cleansing skin, moisten a sterile cotton pad with alcohol-free toner. Smooth on skin in areas where needed, avoiding the eye area. Apply day or night. Explore the other products in our Calendula Skincare Collection like our foaming face wash and Calendula Petal-Infused Calming Mask.
For normal to oily skin types, including sensitive skin.
Leading Benefit: Gently cleanses and refreshes facial skin. Designed to soothe problem skin.
Key Ingredients: Calendula. Allantoin. Great burdock root.
Standard

€5.95
Premium Express €9.50
1-3 business days.
Same Day, Dublin Only €15.00
Nominated Day, Dublin Only €13.50
Large Items €24.99 (up to 7 days)
For more information on our delivery service please read our full details on Brown Thomas Dispatch, Delivery & Order Tracking.
Rathwood Furniture & BBQs €50.00
This item is usually delivered within 2 weeks.
BT Plus €19.95
Unlimited standard delivery for a year.
Find out more
Find Out More About Our Delivery Methods
Quick & Easy Returns
For full details on how you can return items online or in-store, please click
here
Please see store pages for Click & Collect opening hours.
Convenient and complimentary, order online and collect from your nearest store.
Brown Thomas Click & Collect is a complimentary service which enables you to place an order online and collect from your nearest store.
Choose from our cotton tote, drawstring bag or signature gift wrap options which include your personalised message from €3.
At certain times of the year our gift wrap may vary slightly in line with seasonal celebrations.
More beauty