Images
Locally Sourced & Irish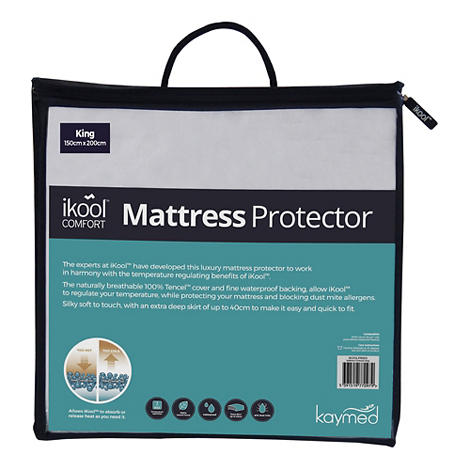 Locally Sourced & Irish
KING KOIL
The Sustainable Edit
Ikool Comfort 40cm deep Mattress Protector White
Details
https://www.brownthomas.com/home/bedroom/mattress-pillow-protectors/ikool-comfort-40cm-deep-mattress-protector-white/2000118078.html
Product Actions
Nominated day delivery
Pick your delivery date and time slot up to 28 days in advance. Dublin only.
Part of our Sustainable Edit
We place sustainability at the heart of what we buy and sell which is why we'll reward you with double loyalty points when you shop sustainably.
Find out more
Additional Information
The experts at Ikool have developed this luxury mattress protector to work in harmony with the temperature benefits of Ikool. Thely breathable 100% Tencel cover and fine waterproof backing, allow Ikool to regulate your temperature, while protecting your mattress and blocking dust mite allergens. Allows IKool to absorb or release heat as your body needs it. Silky soft to touch, with an extra deep skirt of up to 40cm deep to make it easy and quick to fit.
Sustainability: Made in Ireland
Standard

€5.95
Premium Express €9.50
1-3 business days.
Same Day, Dublin Only €15.00
Nominated Day, Dublin Only €13.50
Large Items €24.99 (up to 7 days)
For more information on our delivery service please read our full details on Brown Thomas Dispatch, Delivery & Order Tracking.
Rathwood Furniture & BBQs €50.00
This item is usually delivered within 2 weeks.
BT Plus €19.95
Unlimited standard delivery for a year.
Find out more
Find Out More About Our Delivery Methods
Quick & Easy Returns
For full details on how you can return items online or in-store, please click
here
More home