Images
GIFT WITH PURCHASE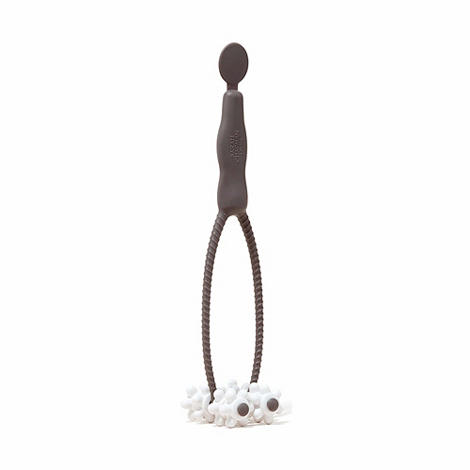 GIFT WITH PURCHASE
Details
https://www.brownthomas.com/beauty/personal-care/devices-tools/the-facialift/133828303.html
Product Actions
Nominated day delivery
Pick your delivery date and time slot up to 28 days in advance. Dublin only.
Additional Information
This unique facial massager mimics the fast tapping, pinching and knuckling of our Skinesis signature massage technique. The Facialift helps to brighten, lift, drain toxins and reduce puffiness, giving you the immediate glow of a Skinesis facial.
BENEFITS:
Releases muscular tension, particularly in the jaw.
Encourages blood flow bringing a glow to the skin and helps decrease puffiness through lymphatic drainage, contouring the look of the jaw.
Regular use prevents jawline breakouts.
HOW TO APPLY:
Step 1: Holding the massager at right angles to the face, push and roll The Facialift from the chin to the ears allowing the wishbone to separate on each side of the jaw, avoiding the cheekbones.
Step 2: Push and roll either side of the neck front to back.
Step 3: Hold the rollers together and use the flat disc tapper to tap all over the face to plump and increase blood flow. Focus on bony areas and eye contour. For an at-home facial repeat each movement 6 times.
To clean: Wash in warm soapy water. If you have any health problems, skin conditions or your skin is fragile, consult your doctor before use. Discontinue use and consult your doctor if discomfort, irritation or pain occurs. Not to be used by children.
Standard

€5.95
Premium Express €9.50
1-3 business days.
Same Day, Dublin Only €15.00
Nominated Day, Dublin Only €13.50
Large Items €24.99 (up to 7 days)
For more information on our delivery service please read our full details on Brown Thomas Dispatch, Delivery & Order Tracking.
Rathwood Furniture & BBQs €50.00
This item is usually delivered within 2 weeks.
BT Plus €19.95
Unlimited standard delivery for a year.
Find out more
Find Out More About Our Delivery Methods
Quick & Easy Returns
For full details on how you can return items online or in-store, please click
here
Please see store pages for Click & Collect opening hours.
Convenient and complimentary, order online and collect from your nearest store.
Brown Thomas Click & Collect is a complimentary service which enables you to place an order online and collect from your nearest store.
Choose from our cotton tote, drawstring bag or signature gift wrap options which include your personalised message from €3.
At certain times of the year our gift wrap may vary slightly in line with seasonal celebrations.
More beauty