FAQs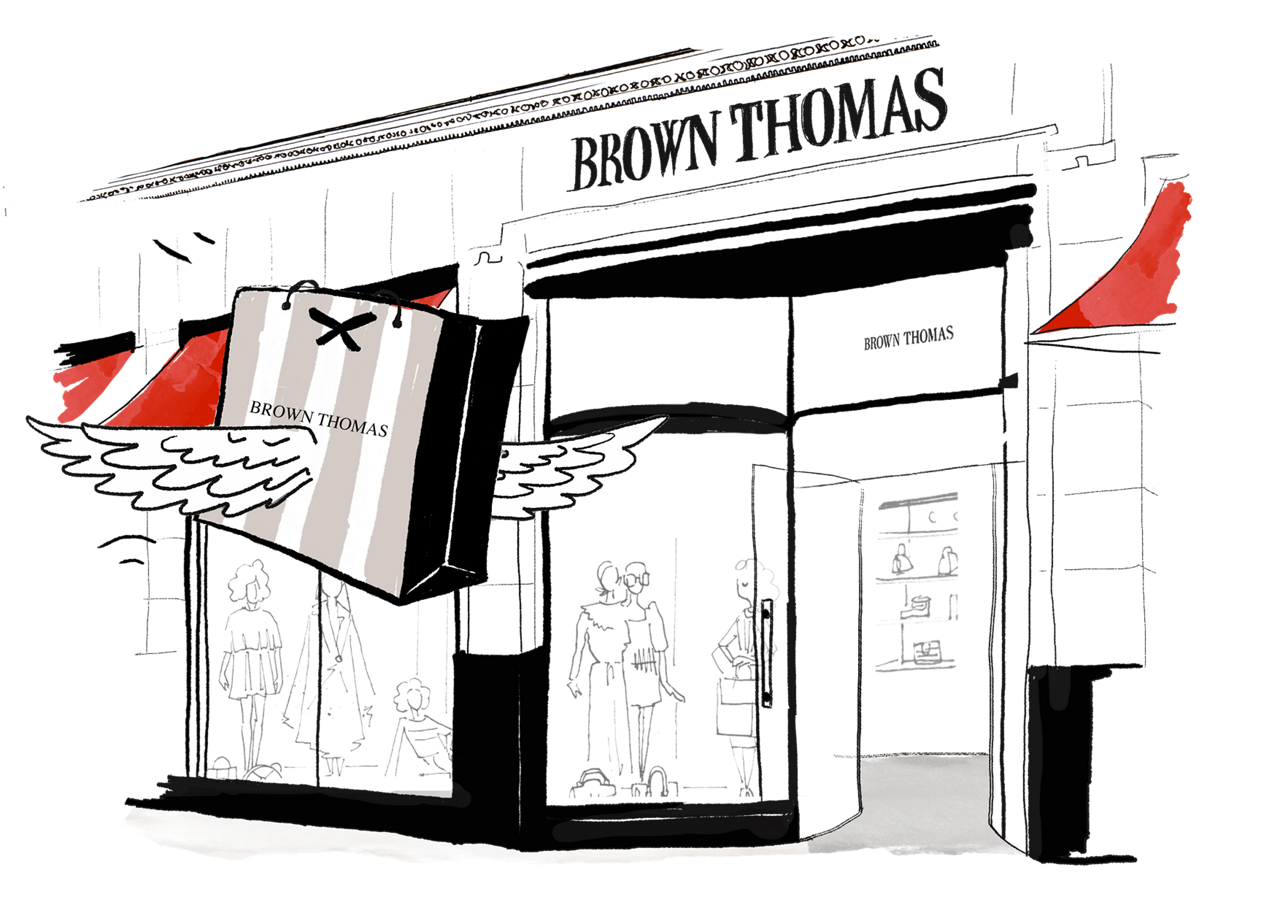 Placing an online order
We always endeavor to give you the best experience when ordering with Brown Thomas. If you're having issues with an online order, please contact our online Customer Services Team via email onlinecustomerservices@brownthomas.ie.
We'll send you a confirmation email when we receive your order (check your spam folder if you don't see it). If you notice an issue with your personal details, contact online Customer Services right away here page. Details for orders already dispatched can't be amended.

As we aim to start processing your order as soon as its placed, it is not possible to add items to an existing order. Similarly, you have limited time to cancel an order after its been placed by contacting the online Customer Services team. It's not possible to cancel orders once they've been dispatched.
We accept payment in Euro and Sterling. Pay online using the following payment methods: Visa, MasterCard, American Express, Brown Thomas Rewards VISA Credit Card, PayPal, Apple Pay, Arnotts or Brown Thomas Gift Card and loyalty points. Please retain your gift card for 28 days following an online purchase in case of a refund. We take your personal information and security online very seriously. For your protection, cards must be authorised. Occasionally, cards may be declined for a number of reasons – please contact your bank for more details if this happens.
A pre-authorisation is a temporary hold on funds in your bank account. It tells us that the funds for a purchase are in your account but no money actually comes out at this stage. Pre-authorisation hold times vary between banks from 7 to 30 working days. You don't need to do anything to cancel the pre-authorisation. Contact your bank if it's still showing on your account after 30 working days.

Please contact your bank for any queries, asking for the ARN transaction number before contacting Customer Service.
You can apply discount or promotional codes at checkout. Only one promotional code can be used at a time, and they can't be applied after your order has been placed. If you're having trouble with a code, please contact our Customer Service team.
You won't have to pay extra taxes and duties following Brexit. The final purchase price is shown at checkout as usual. If you receive a request for additional charges upon delivery, please contact our customer care team.
Irish VAT is applied to all orders, including those to Northern Ireland.
Occasionally items become unavailable due to many reasons including items being picked directly from store. We are very sorry if you receive an order confirmation email, followed by an email saying that an item is unavailable.

In the unlikely event that we are unable to fulfil all items in your order, we will still send any other items you've ordered and adjust the total cost.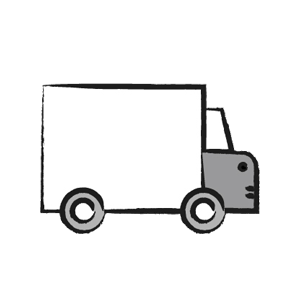 Delivery
At the moment we only deliver to the Republic of Ireland and Northern Ireland. Visit our
Dispatch & Delivery page for current delivery information and timelines.
If you choose standard delivery, your dispatch email will contain an An Post tracking number. Use this number in the An Post tracking system 'Track and Trace' to follow your item from dispatch to delivery.
If you choose Premium Express your dispatch email will contain an DPD tracking number Use this number in the DPD  'Track and Trace' to follow your item from dispatch to delivery.
For Same Day or Nominated Day orders you'll receive an SMS once our courier Wheels We Deliver has picked up your order which will confirm your chosen delivery slot.
Rathwood Furniture & BBQs  delivery is arranged via specialised courier, please refer to your dispatch confirmation email for details
We currently use An Post for our standard delivery services in Republic of Ireland. DPD couriers fulfil our Premium Express offerings across Republic of Ireland. Wheels Couriers fulfil our Same Day and Nominated Day. For Northern Ireland deliveries we use DPD as our delivery partner. Rathwood Furniture & BBQs delivery is arranged via specialised courier. See our Dispatch & Delivery page for more details, including delivery timelines
Once your order has been dispatched, you'll receive an SMS containing the expected delivery date. This text will give you the option to reschedule, reroute or collect from a DPD Service Point. Delivery timelines are postcode dependant and delivery to remote locations may take longer.
Find out more about our BT Everywhere service HERE where we ship all products from Brown Thomas Grafton Street located in Ireland. Shipping fees will vary depending on the destination, weight, and value of the product. The store will ensure that all products are dispatched within 48 hours of purchase.
If your delivery has gone over the stated delivery timeframe, you can contact our Customer Service team via email onlinecustomerservices@brownthomas.ie. Be sure to include your Order Confirmation number in your enquiry so we can track down your order easily.

Sometimes we may deliver your items separately to get them to you quicker, we will communicate this to you via email.
BT Plus Delivery is a year long delivery service. For €19.95 you can enjoy unlimited standard delivery for all your Brown Thomas orders for the year. You can sign up to BT Plus Delivery at checkout.
For full terms and conditions, please see here.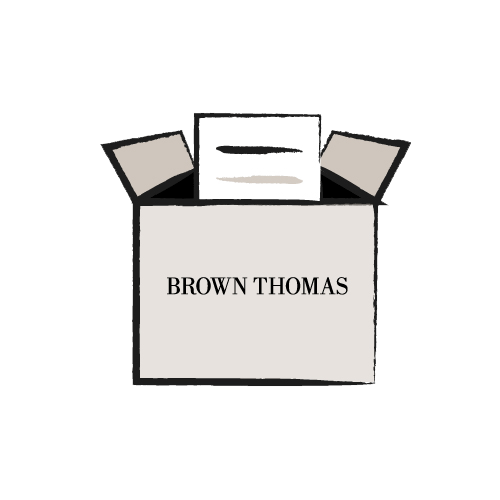 Refunds & Returns
See our Refunds & Returns page for full details of our policy.
• Step 1 Using the order form, please indicate which item(s) you would like to return and why.
• Step 2 Insert the form, along with item(s), in original packaging and secure tape.
• Step 3 Go to https://www.anpost.com/returns and follow the simple instructions.
• Step 4 Under the Retailer selection box, please select 'Brown Thomas' to ensure fast refund. Please note, if you are returning an electrical item, you should select the 'Brown Thomas Electrical' option.
• Step 5 You will have the option to either print a returns label or schedule a pickup where the label will be provided by An Post upon collection.
• Step 6 You will receive a confirmation email from us upon receipt of your package and when your refund has been processed. Please note it may take up to 14 days for your items to reach us.
Please note from the 18th of September return orders will be charged at €4.95

*If you are in Northern Ireland, you can: Attach the FREEPOST label provided and bring to your local Post Office. Please ensure you retain proof of postage.*Kindly note some orders must be returned via DHL complementary pick-up service only.

If this applies to your order, a DHL waybill label and steps to complete your return will be sent with your order.
• Online purchases These must be returned within a 28 days from when you received your order and be in a saleable condition. You may return most items purchased online to any of our Brown Thomas stores along with the order confirmation email and dispatch invoice. Kindly note Bottega Veneta, Christian Louboutin, Saint Laurent plus Prada bags & accessories and Jimmy Choo shoes & accessories can only be returned to our Dublin store.  
• Items purchased in-store These may be returned within 28 days. Please note merchandise must be accompanied by an original receipt or a digital receipt on the Brown Thomas App. Refunds are issued to the original method of payment. A gift receipt is not an original receipt. Reduced price merchandise may only be exchanged.
If a product is defective in any way, please contact us and we'll provide a free returns label so that you can return the item at no cost. Any breakage or damage should be reported to us within 24 hours of delivery.

Please note products will be inspected upon return.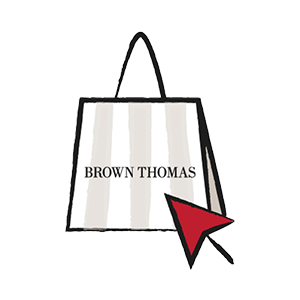 Click & Collect
Place an order online and collect from your nearest store with no additional charge. See store pages for Click & Collect locations and opening hours.

You may now also collect your order from Arnotts, see store information here.
To collect your order in-store, pick Click & Collect from the delivery options at checkout. Click & Collect is completely free of charge. Payment is authorised when you place your order online. Full payment is taken when your order is sent to your store for collection, with the exception of payment via gift card or loyalty points.

Click & Collect is currently unavailable for customers shopping in Sterling.
Don't worry, we'll let you know when your order is ready to be collected. We aim to have your order ready in up to 7 working days (excluding furniture and large electrical appliances), but out-of-stock items or late product deliveries can sometimes cause delays.
When it's ready to collect, make sure to bring along:
- A copy of your 'Ready for Collection' email - you can print the document or show it on a phone or tablet - Either the payment card you purchase the items with or photo ID (a driving license or passport)
If someone is collecting on your behalf, they must live at the same address as you. Along with the 'Ready for Collection' email and photo ID, they'll need to bring proof of address (a bill or bank statement).
If you can't collect your order when it is ready, please contact Online Customer Services Team via email at onlinecustomerservices@brownthomas.ie to make an alternative arrangement. We understand sometimes there is a delay to collect however we can only hold an order for 10 days. After that, we'll contact you to process a refund and return the items.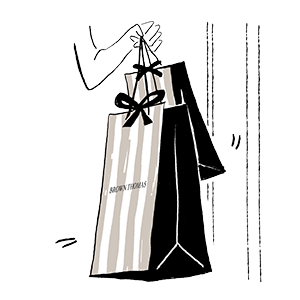 Gift Cards
Give the gift of something beautiful with the Brown Thomas Gift Card. Gift cards can be purchased online or in-store. If you have any issues with a gift card, contact our Customer Service team at onlinecustomerservices@brownthomas.ie.
Valid Brown Thomas gift cards may only be used as full or part payment for goods in Arnotts and Brown Thomas stores, BT2 stores, as well as online at brownthomas.com and arnotts.ie. Gift Cards do not have an expiry date and will remain valid for as long as there is a balance on them.

E-gift cards are only available to be purchased in Euro however they can be used as full or part payment for goods in both Euro and GBP when shopping online.
For further support on eGift cards call 1800856097
For further support on physical Gift cards call +353 (0)818 303062
You can either buy a gift card online for delivery, or buy in-store. Gift cards bought online can't be picked up in-store for security reasons. Please see the gift card page for all delivery information. Please allow 2-3 working days for delivery.
Our team at any till point in-store can check a gift card balance for you. Gift cards can't be exchanged for cash.

Our gift cards do not expire.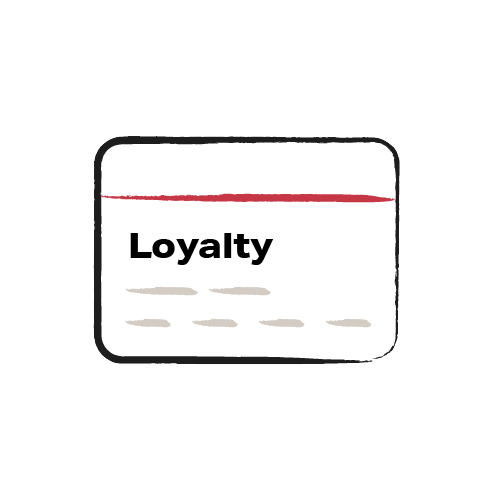 Loyalty Card
Download the Brown Thomas App and join loyalty to start earning points. See our Loyalty Card page to find out more. If you have any Loyalty queries you can contact the Loyalty team on loyalty@brownthomas.ie or call 0818 303 062.
The Brown Thomas Loyalty Card can be used to earn and spend points on qualifying purchases while shopping at Brown Thomas and Arnotts in-store, online and through our App. Check your points balance in My Wonder section in your account online or on the App, or at any till point in-store.
There are different Loyalty tiers depending on how much you shop with Brown Thomas and Arnotts. For each tier you qualify for, you can enjoy exclusive benefits. See our Loyalty Page for full details.

Every 100 points you earn equals €1 (£1) to spend in-store. Check your points balance in your account in the My Loyalty section of the App or on our website or ask at any till point in-store.

Loyalty members earn 1 point for every €1 (£1) spent. You become a Platinum member when you spend over €5000 (£5000) with your loyalty card. Platinum members earn 2 points for every €1 (£1) spent.

All members receive triple points on their birthday for 15 days! This applies for the 7 days before your birthday, on your birthday, and 7 days after.

Loyalty members also receive double points on all products purchased in the Sustainable Edit. Platinum members receive complimentary tea, coffee or dessert when they dine with us, as well as free basic alterations and free online delivery.

Please note, Loyalty benefits are at the discretion of Brown Thomas Arnotts and are subject to change.
To spend your points, scan your Loyalty Card using the App or your physical card at the till or select Loyalty Points as a method of payment during the checkout process. You can use them for any purchase except gift cards and car parking, even in the sale. Build them up or redeem them as you go – the choice is yours.
On the 30th of September each year, the points earned in the previous year expire. For example, on the 30th September 2022, your unused points earned up to 31st December 2021 expire. But not to worry, we'll send you an email reminder of exactly how much you have left to spend.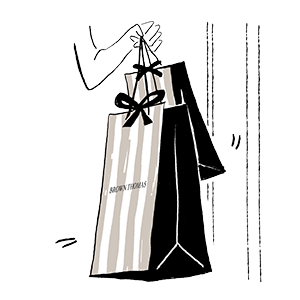 General Enquiries
If you need help, please contact our Customer Service team via email onlinecustomerservices@brownthomas.ie. We're available Monday-Sunday during these times.
Registering for an online account allows you to save your details for faster checkout and earn loyalty points. Once registered, you can edit any of your personal details as needed in the 'My Account' section.
If you already have an account but can't remember your password, just follow the 'forgotten password' instructions on our sign-in page. It should only take a few minutes to get your password reset email – if you're not seeing it, check your junk/spam email folder or get in contact with us for help.
See our store pages for the location and opening hours of your nearest store.
All Brown Thomas stores have a sensory-friendly shopping hour for the first hour that the store is open on a Sunday. This is to provide a more comfortable shopping experience for our customers with sensory sensitivities. We are aiming to create a calmer, more subdued environment for our diverse community. If you would like more information, please speak to a team member in store.
Please see our Careers page for details on current vacancies.
Our best price represents the permanent retail price for the item. Items in this category will not be further discounted as part of sales, offers or other  promotional activity. Shop here.
Subscribe to our weekly update emails full of brand new products and ideas using the sign-up box on our homepage. There's also an option to sign up when you register for a brownthomas.com account.
To unsubscribe, click unsubscribe at the top or bottom of any Brown Thomas email and confirm your request. It can take up to 5 working days for your request to be implemented.
We take your privacy very seriously and treat all your personal information as confidential. We won't disclose your information to a third party without your consent. Please see our Privacy Policy for more detailed information.
While we offer the ability to store payment details for a quicker checkout, we're careful to store these details securely.