Our Guide To A Beautiful Bedroom And A Wonderfully Comfortable Bed
Slipping into bed between crisp white cotton sheets is one of life's subtle pleasures. Fluffy pillows, a luxurious duvet and some beautiful bedlinen are what we all desire. But from toppers to throws, thread counts to tog ratings - it can all seem a little complicated. So here is a simple guide to selecting what's right for you.

Brown Thomas has stocked the world's finest brands in homewares for over 30 years and our experienced staff are delighted to help you with your choices, both in our shops and by telephone. But if you prefer to buy online, then here is what you need to know about creating the perfect sleeping experience…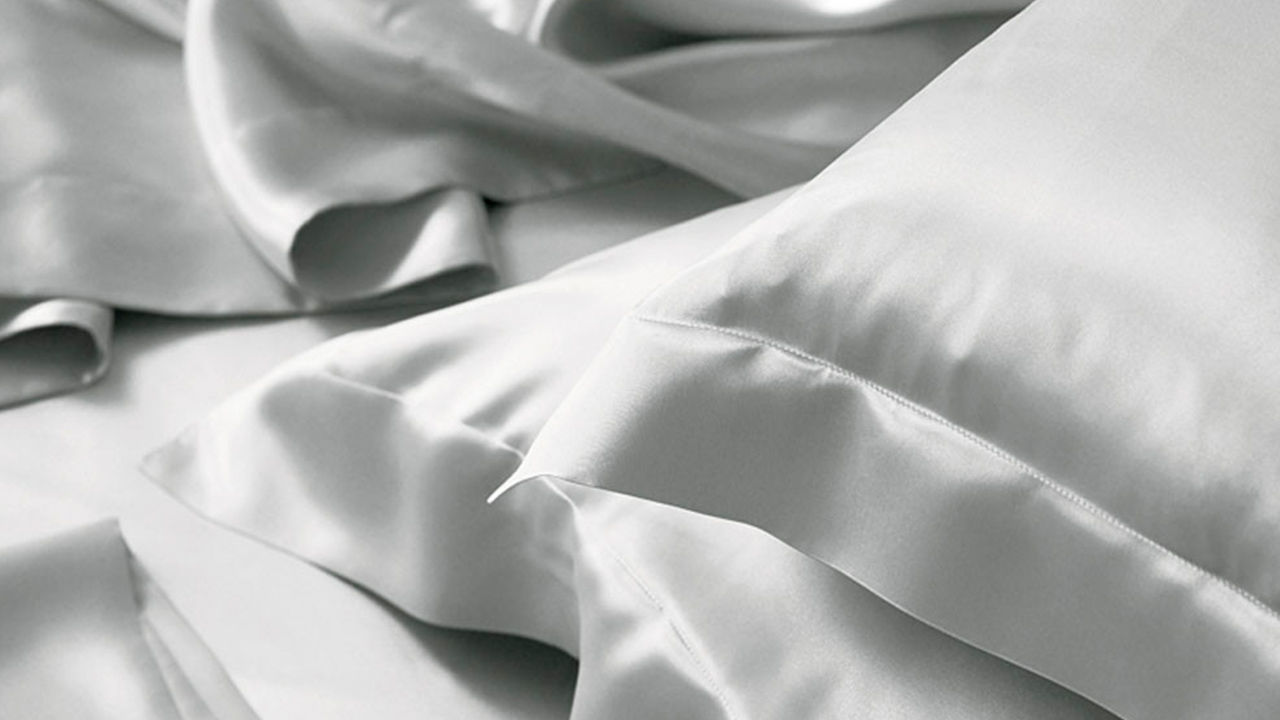 Bedlinen
Bedlinen Fabrics
Good bedlinen is a pleasure to use and a great investment, as although you may pay a little more, fine quality fabrics will remain smooth and comfortable, are easy to care for, and simply don't wear out! Keeping everything you sleep in "natural" (as opposed to man-made) is a good rule, so choose pure cotton, linen, silk or jersey.

Choosing cotton: Pure cotton is cool and comfortable to sleep in, easy to launder and the most popular choice. Pure cotton is available in two finishes - cotton percale or cotton sateen.

Percale or Sateen Cotton - What is the difference?

Choose percale cotton if you prefer a cold crisp feel to your sheets with a matt finish and a smooth handle -ensuring a restful night's sleep.

Sateen cotton is pure cotton that has been manufactured in a way that creates a silky soft feel and a higher shine - if you like to slip into bed and feel surrounded by warmth and softness, then cotton sateen is for you.

Choosing linen: Linen is nature's wonder fabric, cool and comfortable yet incredibly strong and resilient. Linen ages beautifully, becoming softer over time and can be laundered at hot temperatures, making it perfect for both tableware and bedlinen. The 'shabby-chic' style of relaxed, slightly crumpled linen is very attractive, and means ironing is unnecessary. For those who love a more tailored, formal style, pure linen can be washed, ironed and starched, for the classic 5-star hotel bedroom style.

Choosing silk: Luxurious and sexy, sleeping in pure silk bedlinen conjures up James Bond decadence. Tumbling into bed between ivory silk sheets feels incredible, but also has fantastic beauty benefits, known since the days of Cleopatra...

As well as preventing hair from becoming tangled, this wonderful natural fabric helps prevent fine lines from forming on delicate facial skin, ensuring your night's sleep leaves you looking your most radiant and rested self. So, whether you choose to dress your bed in this beautiful fabric or just treat yourself to a simple silk pillowcase, pure silk is a fabulous choice and the Gingerlily silk brand can be machine washed at a delicate setting.

Choosing jersey: Jersey is made from cotton which has been knitted rather than woven. This means it feels like your softest t-shirt and needs no ironing. Jersey is a fabulous choice for kids, teenagers or anyone who prefers a relaxed, cosy 'hygge' style. 'Slouchie' is the most famous brand of jersey bedlinen and is sold exclusively in Bottom Drawer at Brown Thomas.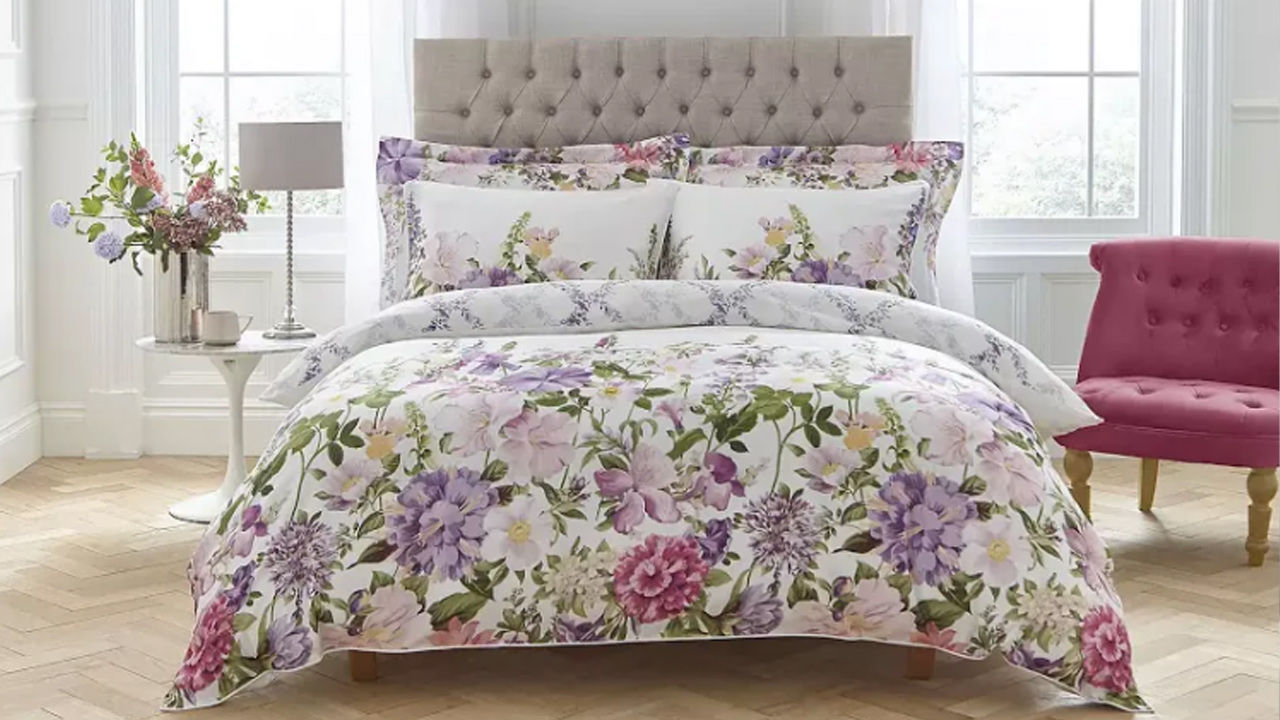 Bedlinen Designs
Choosing bedlinen should be great fun - whether it's snow white minimalism from top Italian brand Frette or wonderful floral prints from Piubelle and Dorma, choose something gorgeous, comfortable, and great quality. If you are visiting us instore, it's a great idea to take a photo of your bedroom in advance so we can help you with your choices. Dressing your bed in sleek white or grey tones is always on trend, but for sunny summer months, a pretty floral or beautiful print is a super way to brighten your bedroom and bring colour to your bedroom style, so mix it up and wake up happy!
How Important is Thread Count?
'Thread count' means the number of threads in the weave of a cotton fabric (the warp + the weft) per square inch. But a higher thread count does not necessarily mean a better-quality cotton! Perhaps more important are the quality of the yarns used and the way the fabric is treated or 'finished'.

Here is a simple guide: Ask where is this made? Bedlinen made in Italy, Portugal, Switzerland, France, or other European countries will always be of the best quality.

Then choose a thread count between 300 and 600. The fine quality yarns and the finishing processes of the top-quality European brands will ensure your bedlinen is smooth, supple and fabulous to sleep under.
The Essentials for a Well-Dressed Bed
The bedroom is the place where we relax and let the cares of the day float away as our dreams take us where they will, and a luxurious comfortable bed is the haven where it all happens.

To dress the bed, start with an excellent mattress protector or feather bed topper. This will ensure your mattress is kept pristine and a soft down topper will add a layer of extra luxurious comfort to your sleeping experience. Next comes the fitted sheet, which should be generous at the corners to fit around the mattress but should be well fitted and snug. The duvet ideally should be light in weight but warm - a pure down duvet makes all the difference, teamed with fluffy pillows to create an exquisite feeling of gentle comfort.

During warmer months, a summer-weight duvet or a light cotton bedspread is a super choice, teamed with a top sheet or perhaps a fine wool blanket, so layers can be removed or added as needed. If you prefer a more tailored look, a beautiful bedspread can cover the entire bed, accessorised with cushions and bolsters for a glamorous finish. Don't forget to cover your bed base with a smart valance, and a cashmere or alpaca throw tossed at the end of the bed is a chic finishing touch.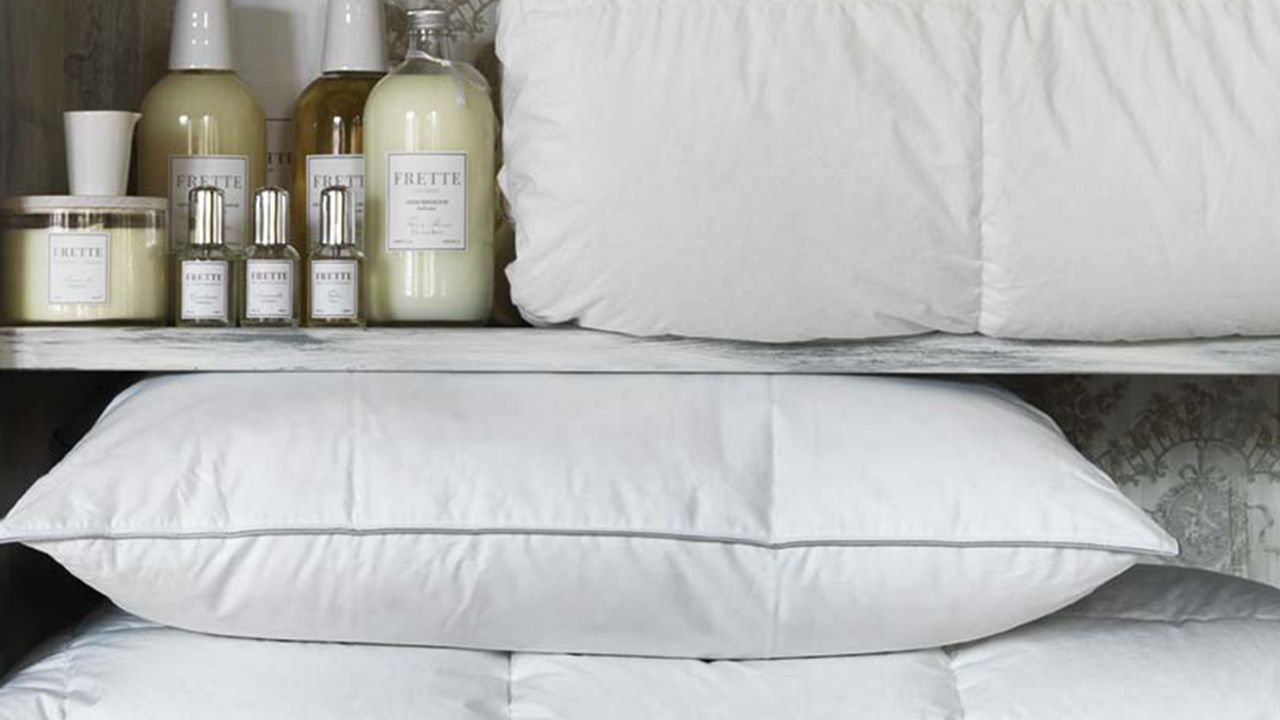 Duvets, Pillows and Blankets
Choosing A Filling:
When choosing a new duvet and pillows, consider if you prefer a natural filling, such as pure goose down or Tencel, or a man-made fibre filling such as Bauschilux or Microfibre, both of which are made from polyester.

A natural filling means the duvet is lighter in weight whilst still being warm. It is breathable and therefore more comfortable to sleep under. A down duvet is environmentally friendly, sustainable, and contains no plastics. Tencel is also a natural fibre, made from the bark of the Eucalyptus tree and has the added advantage of being hypo allergenic.

A man-made fibre duvet is a great choice for kids, being easily machine washable, anti-allergenic and less expensive than the goose down or duck down options.

When choosing a duvet or pillows, opt for those with the highest percentage of pure down (at least 80% down to 20% feathers). Feathers are not good insulators and tend to snap and turn to dust over time. Pure down costs a little more, but it's worth it! A top quality down duvet should last 7-10 years and ensure a wonderfully luxurious and comfortable sleeping experience. In Brown Thomas we stock the best duvets and pillows brands in the world, which are made in Germany and Austria, but Brown Thomas also stocks a fabulous Irish range, made exclusively in Westport, Co Mayo, under the Bottom Drawer label.
Understanding Tog Ratings & Blankets
A tog rating is simply a measure of the general warmth of a duvet, ranging from 2.5 tog (extra-light summer weight) to 13.5 tog (extra warm). A 10.5 tog duvet is the most popular tog rate for an all-year-round duvet and would be warm and cosy for most people throughout the year. A perfect summer weight duvet is 4.5 or 6 tog, lovely for the summer months, May through to September.

Traditional pure wool blankets are still popular and give your bed a tailored, classic style. Our blankets are from English company John Atkinson and Sons who have been producing blankets in Yorkshire for over 230 years. Blankets are used with sheets instead of a duvet and are available in all sizes and a range of fine qualities, from Merino wool to pure Cashmere.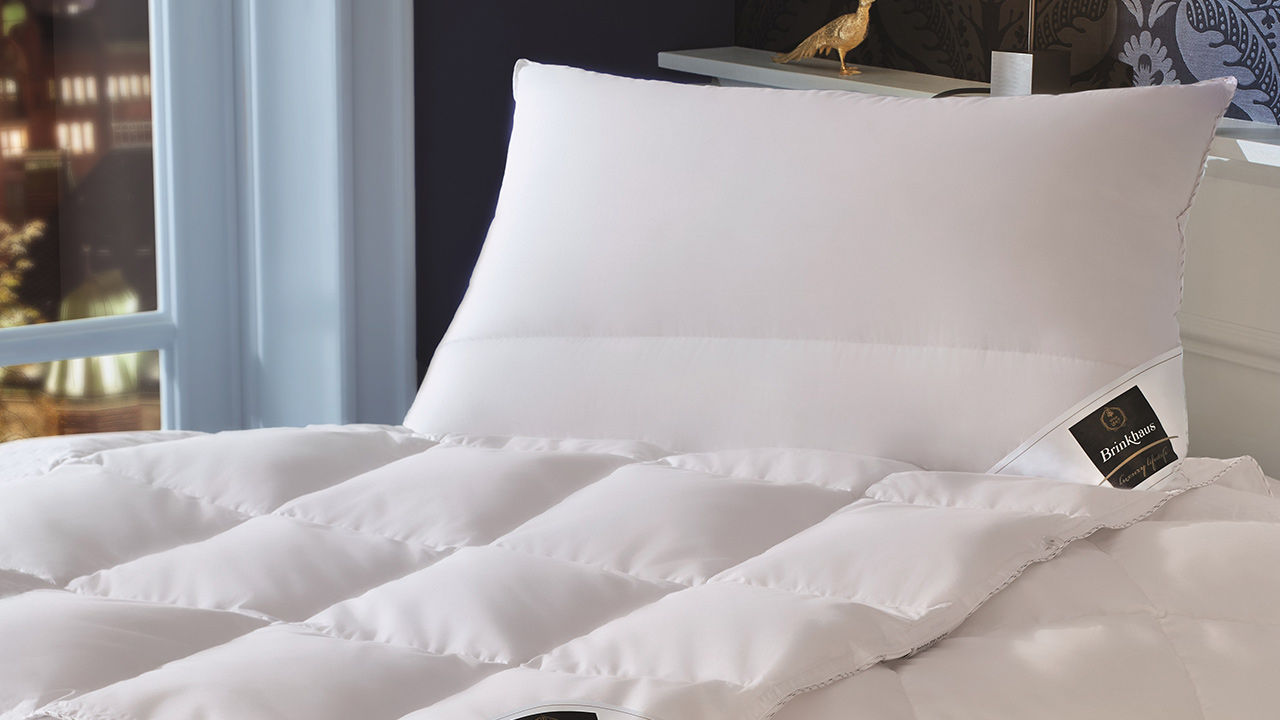 Mattress Toppers and Protectors
What Is A Mattress Topper?
If you have ever returned from staying in a fabulous hotel and wondered what made the bed so incredibly comfortable... it was probably the mattress topper or 'feather bed'. Lying on top of the mattress but under the fitted sheet, a mattress topper is made from a combination of pure down and fine feathers, giving a softness and cool comfort to a bed, without losing the integrity of a good quality firm mattress. Our mattress toppers have a pure cotton case, available in all sizes and are made exclusively for us under the Bottom Drawer label.
Do I Need A Mattress Protector?
Mattress protectors are made from 100% pure cotton filling within a cotton casing and fit around the bed like a fitted sheet. They provide a layer of comfort and natural coolness to your bed, whilst smoothing out any lumps and bumps and keeping your mattress pristine. They can be custom made to any size and are machine washable.
Choosing A New Mattress And Base
Choosing the right mattress that will stay supportive and comfortable for many years is an important decision. A mattress made with natural fibres like cotton or wool or a super comfortable latex mattress is best, as it stops the body from overheating, ensuring a better night's sleep.

In Brown Thomas we sell a top-quality range of mattress and bases, hand-made exclusively for us in Ireland. Visit our stores in Dublin, Cork and Limerick, where you can try out our range and we will be delighted to talk you through the details, from bestseller 5200 Pocket Sprung Amber to Latex Pillow Top. Our ordering time is incredibly fast – usually 1 week to 10 days until delivery, and we can also arrange to have your old mattress removed if necessary.

A fabulous headboard in silver grey velvet or a stunning white leather low-slung bed – whatever your style, a beautiful bed sets the stage in any bedroom. At Brown Thomas, we offer a range of beautifully upholstered headboards, contemporary Italian bedframes and fabulous 24 carat gold leaf Rococo style beds from Milan. Visit us to see the range and make your choice.
What size bedlinen do I need?
Bedlinen sizes can perhaps be confusing - is my bed Queen, King, Emperor sized? Here is a simple guide. If you are unsure of the size of your bed, just run a tape measure across the top of your mattress, from side to side, and then from the top of your bed, end to end. (Some of the sizes will vary very slightly according to brand, but this will not affect the correct fitting of your bed).
Bedlinen Size Guide
Bed Sizes and Fitted Sheets
Single - 3ft x 6ft 3" = 90 x 190cm
Double - 4ft 6" x 6ft 3" = 140 x 190cm
King - 5ft x 6ft 6" = 150 x 200cm (also called Queen)
Superking - 6ft x 6ft 6" = 180 x 200cm
Emperor - 6ft 6" x 6ft 6" = 200 x 200cm
7ft x 7ft = 214 x 214cm
Duvet Covers and Duvets
Single - 54" x 78" = 140 x 200cm
Double - 78" x 78" = 200 x 200cm
King - 90" x 86" = 230 x 220cm
Superking - 102" x 86" = 260 x 220cm
Flat Top Sheets and Bedspreads
Single - 71" x 106" = 180 x 270cm
Double - 94" x 106" = 240 x 270cm (use this size also on a King bed)
King - 106" x 106" = 270 x 270cm (use this size also on a Superking bed)
Superking - 114" x 106" = 290 x 270cm
Pillowcases
Standard - 20" x 30" = 50 x 75cm
King - 20" x 36" = 50 x 90cm
Square- 26" x 26" = 65 x 65cm
Pillowcase styles
Oxford = a flat flap or border, usually on all 4 sides.
Housewife = simple plain edged